"Am I a passionate NYAMCO Employee? Yes, but why does it matter that we're not the same?"
Mappy

Gender
Male
Species
Mouse
Creator
Namco
Home Series
Mappy
Game Info
In Games:
Mappy, Hopping Mappy and many Cameos.
Mappy is a fictional character and the main character, in the Mappy series. Mappy is a police mouse & is a member of the Micro-police.
Fictional character biography
Edit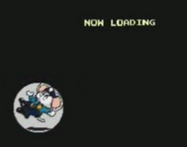 In the Micro-police
Edit
Main article: Mappy (game)
Mappy joined the Micro-police and faced Goro and the Meowkies through a local house in the neighborhood built where Mappy's meadow was. Mappy goes through several houses chasing his enemies and retrieving the stolen items. Mappy eventually emerges victorious. In the game play, Mappy has few defenses against the Meowky gang and Goro (original japanese name, Nyamco) in the early rounds, you get microwave doors. Microwave doors, when opened, will release a wave of energy sweeping away any meowkie or Goro in its path. They can only be used once and then turn into a regular door.  Which can be used to ether give Mappy a quick boost or hit the meowkies or Goro in the face and get 50 points.
Other defenses are the Bells that appear on round 7. They are used to stun the meowkies or Goro in the air for 5 seconds. You get 300 points for every meowkie stunned and 1000 if you stun Goro. To do this, you simply have to hit the bell with Mappy as he is ascending up after bouncing on the trampoline. 50 points everytime you bounce on a trampoline. If you take too long, a disk like object (or robot) called the Gosenzo coin (GO-ZEN-ZO) coin will drop and chase Mappy in a much more effective manner and can not be knocked out by microwave doors or hit back by normal doors and can harm Mappy in the air. Once the coin of death is released, do your best to avoid it if you can. It is more likely to come on higher levels, such as 18 or 17.
Voiced By
Edit
A shown on Namco promotional artwork, Mappy appears to be left-handed, even in the movie.